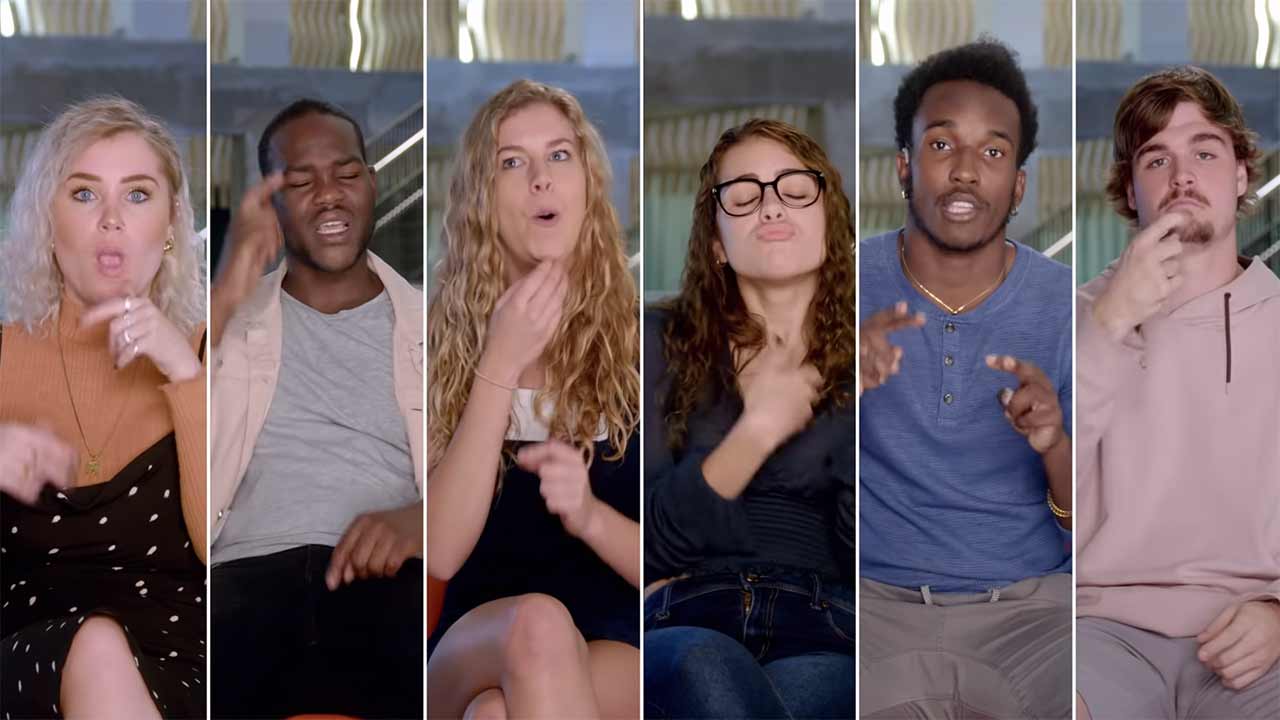 Mit "Liebe im Spektrum" (Originaltitel: "Love on the Spectrum") hat Netflix bereits ein Reality-Format umgesetzt, in dem sich die datenden Protragonit*innen auf dem Autismus-Spektrum befinden, jetzt wird uns mit "Die Gehörlosen-Uni" ("Deaf U") eine weitere dokumentarisch angelegte Reihe, die sich einer ganz besonderen Gruppe Menschen widmet. In acht jeweils rund 20 Minuten andauernden Episoden wird uns die Geschichte einer Gruppe gehörlosen Studierender erzählt. Die lernen an der "Gallaudet University", die eine renommierte Universität für Gehörlose und Schwerhörige in Washington, D.C. darstellt.
Netflix hat jetzt einen ersten Trailer zum Format veröffentlicht, den es bislang jedoch ausschließlich im englischen Originalton gibt. Wobei, viel eher sollte ich schreiben, mit englischen Originaluntertiteln… Dank angewandter Zeichensprache sollten Gehörlose ihn auch international verstehen können (wobei es sich hier vermutlich hauptsächlich um ASL, also die "American Sign Language" handeln dürfte, keine Ahnung, wie weit die über die amerikanischen Kontinente hinaus zu verstehen ist – belehrt mich gerne!).
"Deaf U is a coming-of-age reality series following a tight-knit group of Deaf students at Gallaudet University, a renowned private college for the Deaf and Hard of Hearing, in Washington, D.C. As the group of friends navigate the high, lows, and hookups of college life together, their stories offer an unprecedented, unfiltered, and often unexpected look inside Deaf community. From executive producer Nyle DiMarco."
Ich finde, das ist eine sehr gute Möglichkeit, einen nahbaren Einblick in eine besondere "Welt" zu erhalten. Die Alltagsherausforderungen und Besonderheiten im Leben von Gehörlosen mal gesondert dargestellt zu bekommen, und zu sehen, dass deren Leben eigentlich auch exakt wie die von denen sind, die sich der Möglichkeit des Sprechens bedienen können. Auch mag ich, dass der Trailer größtenteils leise bis stumm daher kommt, passend zum Thema.
Die acht jeweils rund 20 Minuten andauernden Folgen umfassende Staffel von "Die Gehörlosen-Uni" wird ab Freitag, dem 9. Oktober 2020, über Netflix zu sehen sein – hier der Direktlink zur Formatseite auf der Streaming-Plattform.