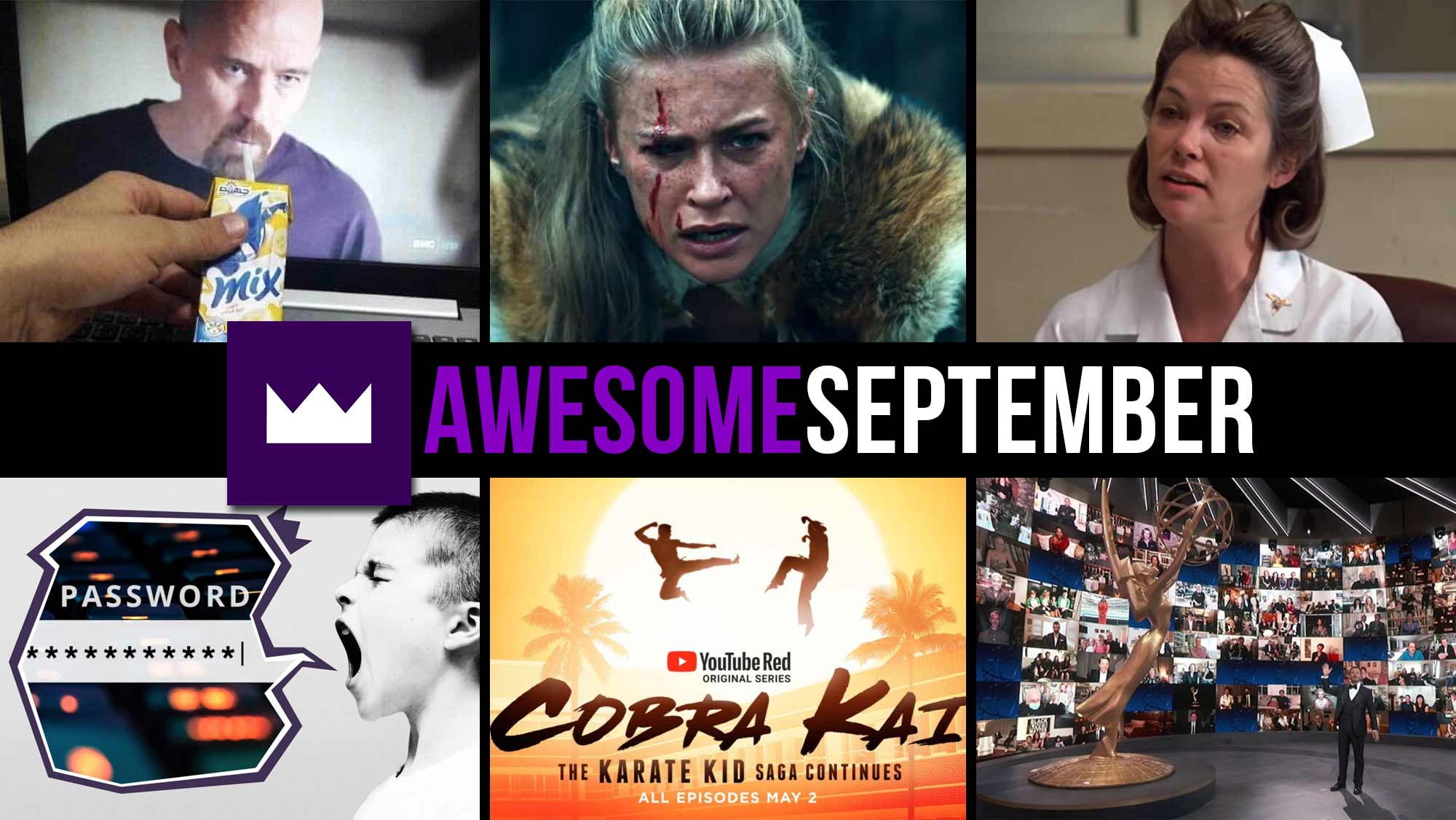 Ganz langsam aber sicher bewegt sich die Serienwelt aus dem Sommerloch heraus und vereinzelte Highlights erblicken wieder das Licht der Mattscheibe. Die ganz großen Highlights waren dann aber doch noch rar, so dass es euch dieses Mal vor allem ein Format angetan zu haben scheint: "Ratched". Was es nebst dieses Netflix Originals noch zu sehen gab, erfahrt ihr im seriesly Monatsrückblick!
Direkt zu Monatsrückblicken springen
Top Serien-Blog-Artikel des Monats
Das sind die meistgeklickten Beiträge, die den letzten Monat hier bei uns im Blog veröffentlicht worden sind, und diese Liste bildet im Grunde genommen die bei euch beliebtesten und für euch interessantesten Serien ab.
TV-Einschaltquoten des Monats
Harte Fakten. Hier die von der GfK gemessenen Daten für das klassische, lineare Fernsehen und die acht reichweitenstärksten TV-Sender Deutschlands (Quelle: DWDL).
Monatsmarktanteile Fernsehsender
MA ab 3
+/-
Vormonat

+/-


Sep 19
MA 14-49
+/-
Vormonat

+/-


Sep 19

Das Erste
10,7
+0,6

+0,1

6,5
+0,6

+0,5

ZDF
13,6
+0,2

+1,0

6,8
+0,5

+1,5

RTL
7,7
+0,2

-1,3

10,9
+0,9

-1,7

Sat.1
6,0
-0,2

±0

7,7
-0,6

-0,3

ProSieben
4,0

+0,2

-0,2
9,2
+0,5

+0,1

Vox
4,7

±0

-0,3

7,1
-0,1

-0,5

RTLzwei
2,6

±0

-0,3

5,4
+0,7

±0

Kabel Eins
3,5

±0

±0

5,0

-0,3

+0,1

Meistgesehene Sendungen je Sender im Monat
| | | |
| --- | --- | --- |
| | Gesamtpublikum | Zielgruppe 14-49 |
| Das Erste | Tagesschau (30.8.) | Tagesschau (30.8.) |
| ZDF | Champions League Finale: Paris – Bayern München | Champions League Finale: Paris – Bayern München |
| RTL | Formel 1 – Großbritannien, Das Rennen | Formel 1 – Großbritannien, Das Rennen |
| Sat.1 | Julia Leischik sucht: Bitte melde dich | Promi Big Brother (Finale) |
| ProSieben | xXx: Die Rückkehr des Xander Cage | Baywatch |
| Vox | Die Höhle der Löwen | Die Höhle der Löwen |
| RTLzwei | Armes Deutschland – Dürfen die das? | Armes Deutschland – Dürfen die das? |
| Kabel Eins | Stirb langsam – Ein guter Tag zum Sterben | Snitch – Ein riskanter Deal |
seriesly MONATSRÜCKBLICKE
Abschließend gibt es noch die subjektiven Monats-Rückblicke aus unserem Autorenteam. Jede/r führt persönliche Highlights auf und schenkt euch einen Einblick in die eigene Watchlist.
Maiks Monat
Hach, was habe ich mich auf "The Boys" gefreut – mein absolutes Highlight des Monats und bislang wurden die Erwartungen auch durchaus erfüllt. Ansonsten war der Monat recht arm, was totale Neuheiten für mich anbelangt. "Ratched" hat mich bislang nicht wirklich angesprochen, zumindest hatte ich stets anderes Futter, das meine Augen bevorzugt haben. Aber hey, immerhin habe ich es endlich geschafft, ein Versprechen einzulösen, das ich bereits viel zu oft gemacht und dann doch ignoriert hatte (s. letzter Eintrag in der Watchlist):
Habe ich gesehen
Fabios Monat
Ja, es lässt sich nicht leugnen: Der Herbst ist da. Und mit ihm die sinkenden Außentemperaturen und das steigende Bedürfnis auf der Couch zu bleiben. Ich habe es mir daher vor allem mit der unheimlichen Grusel-Serie "Spuk in Hill House" gemütlich gemacht. Genau rechtzeitig zum Start der zweiten Staffel am 9. Oktober. Aber auch sonst gab es allerlei Unterhaltsames auf meiner heimischen Mattscheibe zu sehen.
Habe ich gesehen
Kiras Monat
Der September war serientechnisch bei mir nicht gerade abwechslungsreich, denn ich habe tatsächlich Staffel drei von "Bosch" beendet und auch die vierte und fünfte Staffel direkt hinterher geschoben. Okay, ich gebe es zu: Auch von Staffel sechs ist nur noch die finale Episode übrig. Da blieb halt keine Zeit für viel anderes. Für ein paar Folgen "POSE" und "Gefragt – Gejagt" (und ein bisschen Reality-TV) hat es dennoch gereicht. Im Oktober muss ich dann dringend "Ratched" nachholen und abwägen, ob ich mich an die zweite Staffel "The Haunting of Hill House", nämlich "The Haunting of Bly Manor" herantraue.
Habe ich gesehen
Michaels Monat
In diesem Monat habe ich doch zur Abwechslung tatsächlich mal Filme gesehen, und gleich drei an der Zahl. Zum einen "TENET" im Kino (das ist so ein riesiges Gebäude, in dem es mehrere Räume gibt, in denen Filme auf einer Riesenleinwand gezeigt werden – weiß nicht, wer sich erinnert), dann den "Phineas and Ferb"-Film und vor kurzem "Enola Holmes" (hier geht's zum Review) auf Netflix. Serientechnisch stecke ich aktuell im ein bisschen hinter den Erwartungen zurückbleibenden "Raised by Wolves" und in "Devs" auf Sky – finde ich richtig gut bis jetzt. Dazu habe die beiden sehr guten Comedys "Breeders" mit Martin Freeman auf Sky (Review hier) und "Trying" auf Apple TV+ (Review hier) abgeschlossen. Gut gefallen hat mir auch "I am not okay with this" (Serientipp lesen), wovon uns Netflix ja leider keine 2. Staffel spendieren wird. Ein Magen-Darm-Virus hatte mir außerdem eine gewisse Auszeit beschert, so dass ich mich binnen 2 Tagen von 0 auf den aktuellen Stand von "The Boys" bringen konnte. ;-)
Habe ich gesehen
-->